Why choose Serenety ?
1

Identify the threats and risks related to your exposure on the web

2

Detect vulnerabilities and data leaks before they are exploited by attackers

3

Maintain an up-to-date map of your exposed perimeter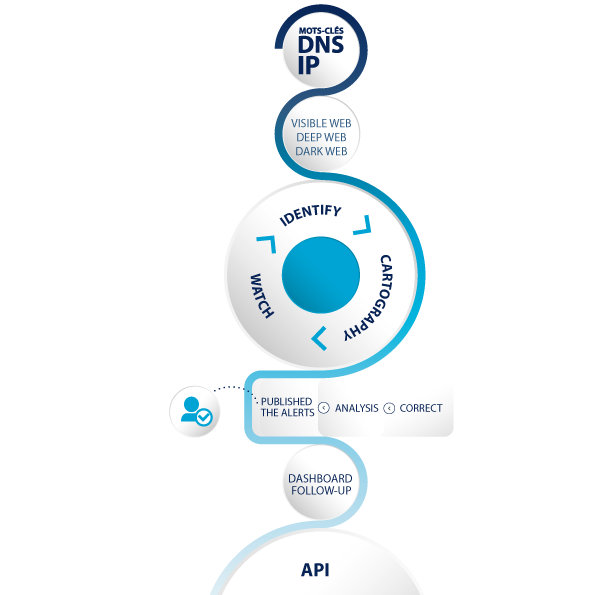 Cyber Threat Intelligence according to XMCO
2 axes to be one step ahead of your attackers
• Global mapping of your perimeter
• Monitoring of assets and identification of existing vulnerabilities
• Tracking changes and obsolescence of assets


• Tracking your exposure to known vulnerabilities
• ShadowIT: Perimeter updated with each new detection of an asset outside the perimeter
• Monitoring of future attack campaigns on social networks, the Deep Web and the Dark Web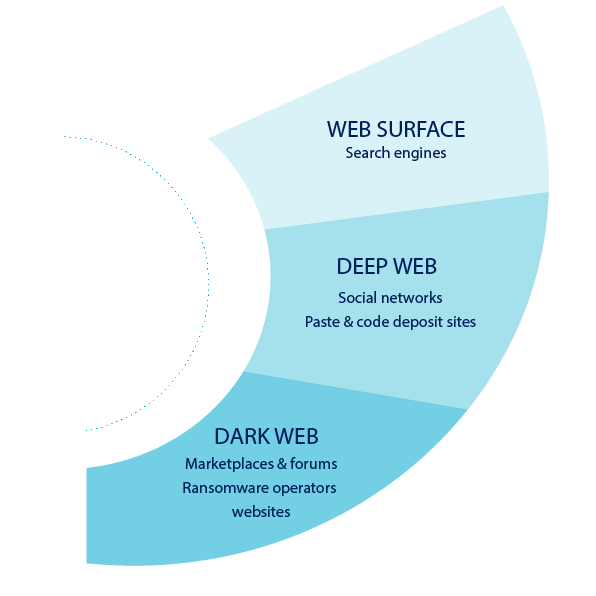 Serenety monitors the 3 layers of the web
To identify your vulnerable or sensitive assets, your exposed data and the threats that target you
General search engines (Google, Bing, Duckduckgo, etc.) and sites with an integrated search engine (Github, Twitter, etc.)

Discussion forums, social networks, blogs and other content requiring specific access.

Tor and I2P sites, attacker forums, marketplaces where stolen data is resold, ransomware operator sites and all the spaces where cybercriminals exchange (Telegram, Discord, etc.).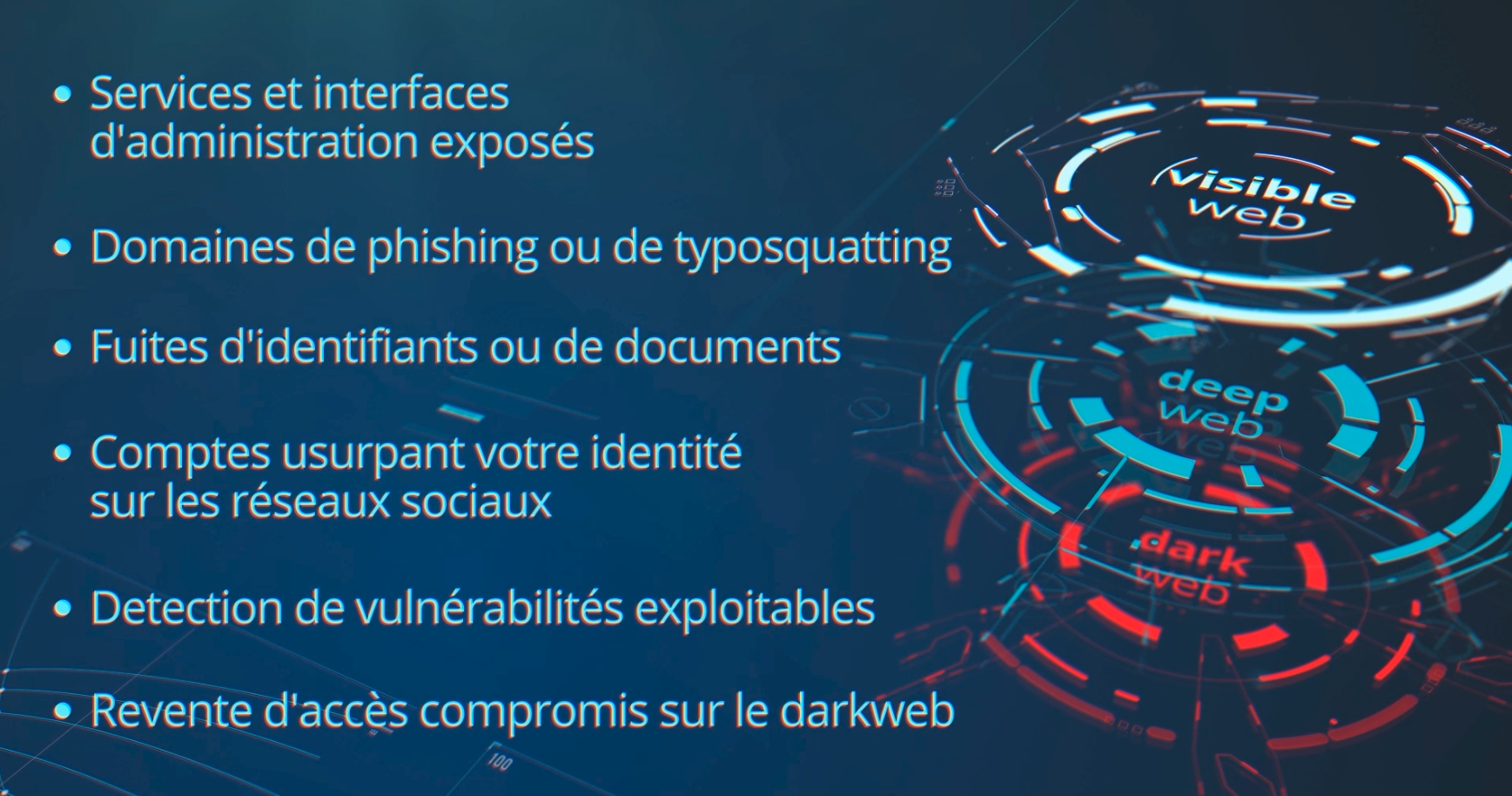 Watch the video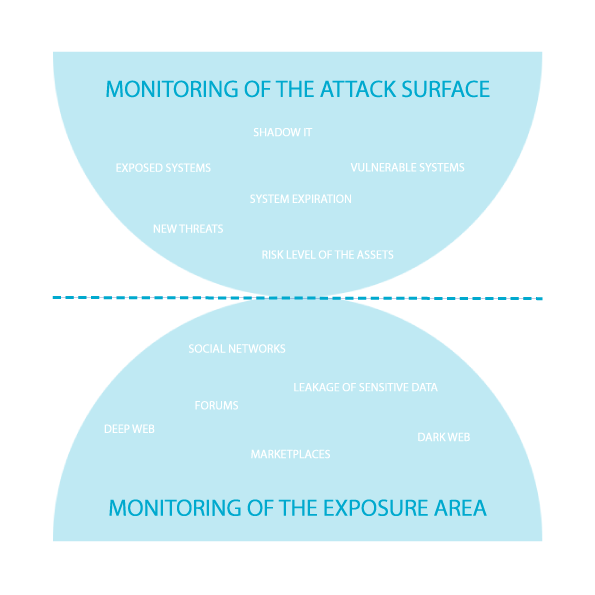 Map your assets and track your exposure
Serenety scans the web and automatically correlates the results from our scans and manual analyzes using:
• Research, Collection and Analysis of information in open sources
• Using techniques and tactics known to attackers to identify targets and develop new resources to enable attacks

• Monitoring of the attack surface: Identification of exposed or vulnerable systems, Shadow IT (unvalidated/authorized websites), the level of risk of your assets (presence on Phishing sites, on blacklists, etc.) , new threats on your perimeter (0day breaches), monitoring of the obsolescence and expiration of your systems
• Exposure surface monitoring: Monitoring of social networks and forums or marketplaces on the deep and dark web, identification of sensitive or critical data leaks for your organization

• Our team is made up of profiles graduates of major engineering schools or specialized in economic intelligence
• Our team is CERT certified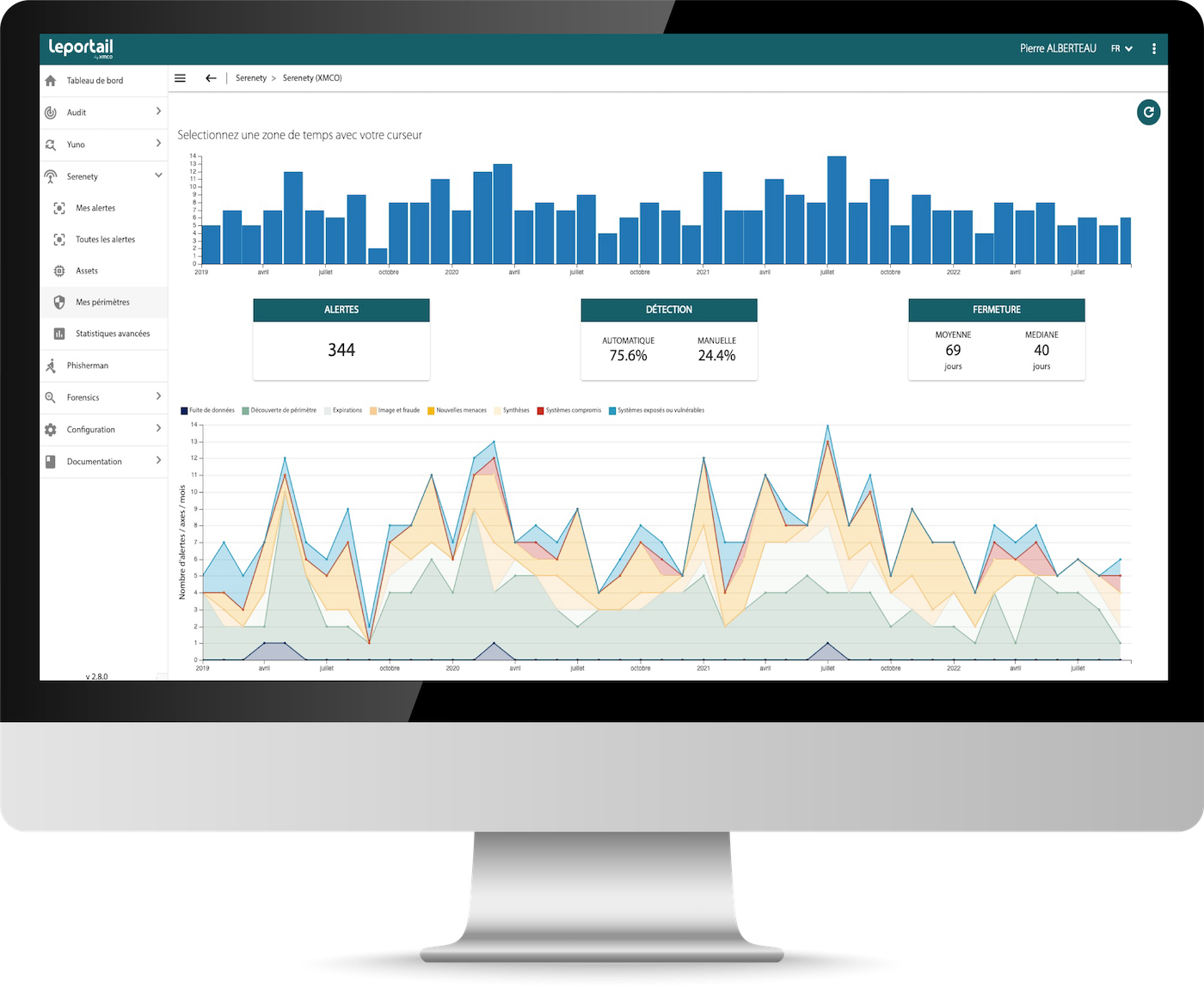 Concrete feedback and strategic analyzes
We analyze feedback from our automated controls as well as attack trends.
Qualified and contextualized alerts without false positives.

Adapted to your needs to follow the evolution of your threats and your levels of risk.

Actions plans facilitating remediation

Benefit from recommendations in each of the qualified alerts.

Statistics and a security score to assess your overall level of security.

Analytics notes on attacker groupes and their operating modes

We frame our analyzes by making the link with the PRE matrix of the MITER ATT&CK framework. We track attack trends and analyze changing criminal modus operandi
The use of Serenety is non-intrusive and does not require the installation of probes or the collection of logs.
A secure API and web portal are available to follow up on alerts with our team.
1

The Portal, an ergonomic solution, accessible in SaaS.

2

Your alerts, security statistics and your action plans: all your information in one place.

3

You monitor your perimeter and its permanent enrichment on a daily basis.

4

The API that allows you to export your alerts directly into your internal tools.
The covered risks
Theft and leaks of data

Leaks of identifiers, source codes or confidential documents

Image damage and identity theft

Typosquatting, trademark registration or domain hijacking

Fraud

Phishing campaigns, social engineering, resale of data on the Dark Web

Attack planning

Content on social networks, attacker forums or marketplaces
You are in safe hands
XMCO supports nearly 300 companies each year.
"The SERENETY dashboard allows my teams to have a history of incidents"

The SERENETY dashboard allows my teams to have a history of incidents facilitating follow-up and discussions with CERT-XMCO. In addition, it allows my colleagues from the DSI and in particular, from infrastructure / telecommunications to constantly check the adequacy of the monitored perimeter. Alerts sent by email avoid having to log in daily. These are rare enough to be treated individually. Issues are dealt with in isolation. If a type of incident occurs more frequently, it can be included in the risk map and of course lead to an action plan.

Benoit Garnier

Information Systems Quality and Security Manager – Mersen Group

"Serenety alerts allow for a higher response rate"

There are plenty of alerting tools on the market. A CISO's day is filled with alerts, so it's a daily occurrence. Humanly speaking, we tend to treat what we know how to treat. When there is remediation, we save precious time. The remediation proposals included in Serenety alerts therefore allow for a higher response rate.

Yohann Guiot RSSI et DPO du groupe Flowbird

RSSI & DPO Flowbird

It is true that the name Serenety is well chosen! The service brings us a little serenity. It reassures us about what is exposed on the IS and on the internet. Serenety makes it possible to detect potential attacks extremely quickly. For us, it is essential to be present upstream and to intervene quickly on an element that would be defective. Serenety represents time savings and organization. We are not drowned under a mass of information: they are targeted and directly linked to the perimeter of the member.

Rémi Tilly

CISO – Sesan